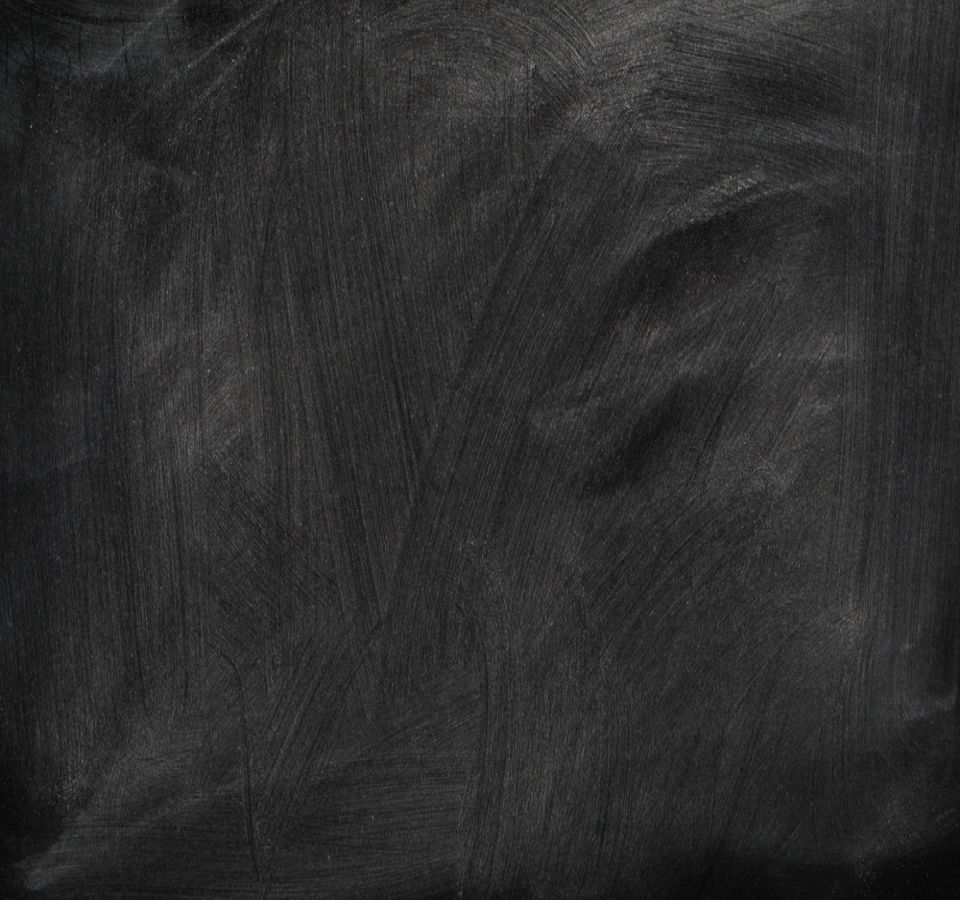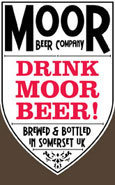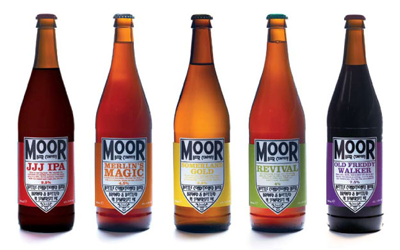 The young guns, the old master and 1 RYPA of a beer!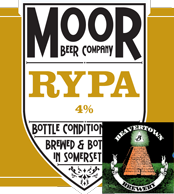 Moor teams up with "Rate Beers" 2013 best new brewer in the UK to create an indulgence beer. :-)
How many brewers does it take to rip open a bag of malt? six with the amount of sleep we had the nigh before! This RYPA is one ripper of a beer in any case. We hope you like rye, we hope you like hops, we hope you like to have a session on them. And you should know you're drinking a beer that was created solely so we could enjoy them all together on a perfect sunny day. A beer for Sunshine, BBQ, beers, music and mates.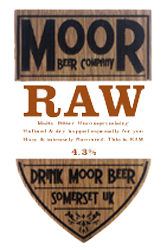 Fantastic hot weather BBQ beer

RAW was originally commissioned to be the house beers for Real Ale Weston and the Royal Artillery Arms, both now sadly closed. The landlord and drinkers were already huge fans of Merlin's Magic, but wanted something a bit hoppier. They were also intrigued with our unfined natural approach to beer. So we trialled three different unfined, dry-hopped versions of Merlin's Magic.
Layering the herbal dry-hopped characteristics over the rich malt base, and padding it out with body and flavour enhancing yeast really transformed the already sessionable Merlin's Magic into something even more enjoyable. Everyone really loves the result. Consequently we make it available to select pubs whose customers appreciate its natural nature and enhanced flavours. If you are lucky enough to find some you will be rewarded with a truly remarkable best bitter, and perhaps begin to understand that beer is often the better for having some opacity.


Hops: Jester (the newest hop from England)

Empire Strikes Back - 5.7%
The empires attempt to teach us colonials a thing or 2 about hops!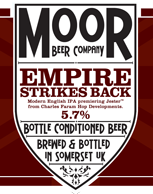 rare and limited first batch.
Be a part of brewing hop history!

So someone said English hops are boring, lack taste and punch did they? The pore poms have been suffering at the hands of us upstart colonials with their new world fruity resiny hops.
New world hops attacking them from both the Northern and Southern hemispheres, assaulting drinkers palates with resiny brilliance. Well thats about to change, the Empire has been secretly at work in a hidden UK research facility experimenting and creating new varieties of hops, until perfection, "Jester" was developed, with the aim to return glory to the Empire and its hop industry.
Its breeding and ongoing development is top secret but it has strong US influences. Can this experimental hop defeat the rebels and restore order?
Moor beer and Lord Justin, have been part of the development process for this new hop and the very first beer created using this brand new hop is "Empire Strikes Back" (in a very small batch). Australia will be one of the few markets outside of the UK to receive a small allocation of this ground breaking first.
Try this modern English IPA and decide for yourself. We've tried it, and impressive, worth a shot.


Hops: Jester (the newest hop from England)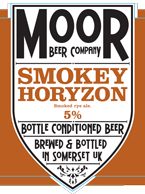 Glass:
660ml

Disposable Kegs:
30 litre EcoKegs (pre-orders only)
Bottles only on first shipment

Rye adds a distinctive spicy flavour to beer that is both interesting and enjoyable. Its even better when paired with smoked malt. If your not used to smoked beers, it may come as a bit of a surprise. Don't worry, by the 3rd one you'll be hooked and book a ticket to Bamberg.
A smoked rye ale full of beautiful smoked flavours, that we loved on our first tasting.

Got to love an experiment, especially when it combines coffee and hops!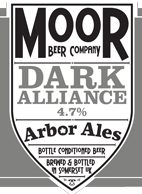 Moor Beer Company / Arbor Ales
Experimental dark hoppy, coffee Ale


A collaboration brew with another great English brewer Arbor Ales.

The beer community is filled with great people. Often they share secrets in dark corners. Sometimes these become something fun and interesting they can share with the world. This is one of those - An experimental dark, hoppy, coffee ale brewed in alliance with Arbor Ales and Clifton Coffee Company. Join the Dark Alliance and experience a new style of beer.

Ideal summer BBQ golden ale. refreshing and mildly sweet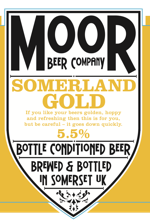 Glass:
660ml

Disposable Kegs:
30 litre EcoKegs (pre-orders only)

If you like your beers golden, hoppy and refreshing then this is for you, but be careful – it goes down quickly for 5%. Pale and Wheat malts are jostling for your attention with Perle and Hallertauer Northern Brewer hops. At this strength our English yeast leaves hints of honey. Some have described this as an English IPA, others a Golden Ale. But let's not get pedantic about styles. This beer is easy drinking for those that drink before they think, and complex enough for those that think about their drink.

A hoppy golden award winning ale brewed using select American hops.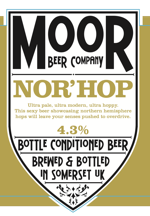 Glass:
660ml,

Disposable Kegs:
30 litre eco-kegs


The counterpoint to So' Hop, this ultra-pale ale is brewed with a limited availability hop from America to impart a pronounced floral and citric quality to the beer, with honey and elderflower in the nose. This beer had been so anticipated that in less than two weeks of release it had won a beer festival and sold out. Not wanting to disappoint its many fans, we have rebrewed it and hope to keep it around as often as possible.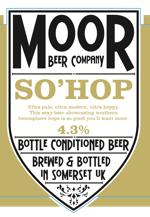 Glass:
660ml,

Disposable Kegs:
30 litre eco-kegs

Homebrewer (future pro?) Casey Letellier provided the inspiration for this New World beer. After a day of brewing with justin (the owner and head brewer) he kindly brought several bottles of homebrew. One of them was a pale ale hopped with a variety they had never had before – Riwaka from New Zealand. From the first mouthful they knew they had to brew with that hop. Justin was on the phone the next day with the hop merchants, but it would not be coming to the UK for another 10 months. Checking back often, even tracking the progress of the boat as it approached (delayed, of course!).
The memory of the power of that hop was so vivid. he did not want to have it compete for flavour with coloured malts, but there needed to be a balancing malt flavour to enhance drinkability. They managed to source a low coloured cara malt – difficult to malt, difficult to crush and very inefficient to work with, but adding good body and some honeyed sweetness. Rather than use traditional pale malt they went with a lighter lager malt to both lighten the colour and alter the malt profile.
Hops from New Zealand apparently come super-vac packed. The package was about half the size of a normal bag for the same weight. Justin hesitantly opened the bag, hoping his memory wasn't all roses. And luckily he was far from disappointed! Uncle Fester was at the other end of the brewery about 50 metres away and could smell them from there even before he pulled the hops out of the bag. They still talk about that as one of our defining brewing moments. The brew day proceeded as normal until the transfer of the wort to the fermenter. Apart from the amazing aroma, the wort was pouring with an unmistakable green tinge.
The resultant beer still remains one of the favourites of many people. Months after we ran out landlords were still asking for more. We endeavour to rotate our Hop beers permanently with Nor' Hop in spring – summer and So' Hop autumn – winter.

Not too sweet but lots of hops.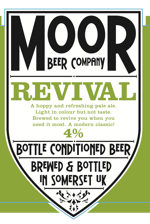 Glass:
660ml,

Disposable Kegs:
30 litre eco-kegs

2012 Gold Medal, SIBA Maltings Beer Festival
2010 Silver "Bitters" Great British Beer Festival
2009 CAMRA Champion beer of Britain finalist
and many more….

Moor Beer Revival
– A very hoppy and refreshing bitter, brewed to celebrate the revival of the brewery, and meant to revive you when you need it. Light in colour but not flavour thanks to a blend of Pale, Lager, Cara, Crystal and Wheat malts. The hops are a blend of American varieties, with American-style yeast providing a crisp finish. For a beer relatively low in alcohol it has a very full flavour and drinks well above its strength, earning it a multitude of awards and setting the standard for the style.
A modern classic
!

Made with Hop resin for that extra kick. Not your normal hop bomb…Hoppiness = Happiness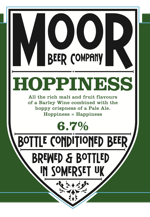 Glass:
660ml,

Disposable Kegs:
30 litre eco-kegs


2009 /10 CAMRA Supreme Champion Somerset

Moor have a large range of seasonal and special beers which they brew throughout the year. Available in limited qty's and generally sold out before it ships.
As with all of their hoppy beers, they give you more than just a one-dimensional hop bomb. Malt is there to add more than alcohol, by the way. And don't worry, there are enough hops in here to scratch that itch. This beer gives you everything – all the rich malt and fruit flavours of a Barley Wine combined with the hoppy crispness of a Pale Ale. In the words of one legend:

Just triple it all !….A very special beer and winner of numerous awards including Rate Beers Gold Medal 2011.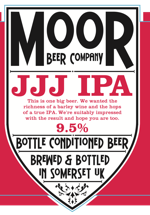 Glass:
660ml,

Disposable Kegs:
30 litre eco-kegs


2010/11 Rate Beer gold award
2010 International beer challenge Bronze

This is one big beer. Forget the ABV, which is just a by-product of the passion. James and Josh from the Queen's Arms, Corton Denham, and Justin (hence JJJ) have a shared passion for great beers and were lamenting the lack of true IPAs in the UK. So they decided to brew their own version of heaven. Double IPA was just not good enough – they needed a triple IPA.
Triple the gravity, triple the colour, and more than triple the hops. With nearly 700 kg of malt and 14 kg of hops this beer is big in every sense. In fact, it was so big and hoppy that it broke their pump! Deep copper in colour, over the top in aroma and flavour, but somehow still remaining (somewhat) balanced, this beer is not for the faint of heart. If you're looking for a one-dimensional hop bomb look elsewhere. And don't get too wrapped up in style pedantics. They are breaking new ground here. Forget everything you think you know and just enjoy.
JJJ is intensely hoppy, but adds the depth and roundness of flavours often associated with a Barley Wine. They liked it so much that upon racking they decided to make it a permanent part of the seasonal range.

A fantastic session strength Black IPA bursting with flavour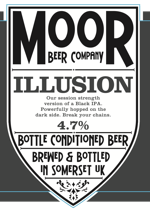 Glass:
660ml,

Disposable Kegs:
30 litre eco-kegs

Illusion is inspired by the awesome beer style created in the States known as Imperial Black Ale (or Black IPA, or whatever you want to argue it should be called). They really admire the profile of this style but wanted a session strength version. They brewed theirs at 4.5% instead of the typical 8%+, but wanted to retain the unique flavour profile.
They source the special malt required from Germany and the hops from America to create a beer of stunning depth and complexity. The beer is black in appearance but lacks the acrid flavours associated with other dark beer styles. This is achieved through use of the special German malt. The hop aromas and flavours are very intense, which we achieve through a major dose of dry-hopping.
The result is a beer that wraps all the wonderful hop profiles of a pale ale inside a silky black exterior. It is truly an Illusion that deceives your eyes and dazzles your taste buds.
Initially brewed as a special release, they loved drinking this beer so much that they kept it on year-round. It is great on its own or with food – particularly at BBQs or with grilled meats.

A classic English porter with lots of character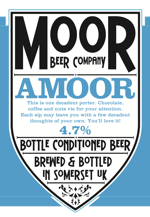 Glass:
660ml,

Disposable Kegs:
30 litre eco-kegs
2011 - Pete Brown's top 50 beers
2010 - International beer challenge - Bronze

As soon as you smell it you will know this is one decadent porter. The rich aroma is from the healthy dose of Chocolate malt, blended with Pale, Crystal and Wheat malts. Bramling Cross hops add fruitiness and earthiness to the beer, which is fermented with an English yeast.

Rate Beer Gold Medal winner 2010 - One of the best old ales you'll find.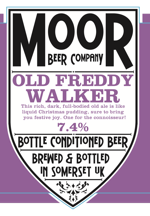 Glass:
660ml,

Disposable Kegs:
30 litre eco-kegs

Limited seasonal release. Multi award winner

Champion Winter Beer of Britain 2004, and one of Roger Protz's "300 Beers To Try Before You Die". This cult ale is one for the connoisseur! A rich, dark, full – bodied old ale that really has to be tasted to be appreciated. This beer is usually the first to sell out at beer festivals, thanks to its blend of Pale, Lager, Crystal, Wheat and Black malts that are fermented with an English yeast. Bramling Cross hops are added to provide a hint of orange and a balancing dose of bitterness.

Taking the aged ale one step further with the use of Old cider brandy barrels. This Rate Beer Gold medal winner is very limited and one not to be missed!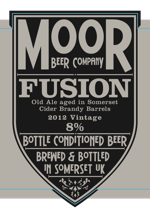 Glass:
660ml,

Disposable Kegs:
30 litre eco-kegs

Very limited annual release. generally only 700 bottles made.

2009 Vintage - This is the Fusion of young and old, grain and fruit, tradition and innovation. Always keen to experiment and innovate, they toyed with the idea of a barrel-aged beer for a while but didn't want to do it to tick a box. Then one sun-filled Somerset day the idea hit them like a container load of apples. The Somerset Cider Brandy Company is just down the road from them and produces some wonderful products. Their Old Ale tastes like liquid Christmas pudding, and what do you put on Christmas pudding (brandy butter, for those not familiar with the tradition). Why not use those barrels to mature our beer, and create a beer with a real difference?
It's not as easy as turning up, grabbing some barrels, sticking beer in them and putting the result in a bottle. Would they even have spare barrels? After several discussions they agreed to sell them a used barrel when one became available. The lucky day came and two were available to choose from. Both had contained 5 year old Somerset Cider Brandy. One was limousine oak, the other had previous use as a sherry barrel before reaching them. Both were opened for inspection. Still nice and wet, the limousine barrel was all fire and apple. The sherry barrel, also wet, had a delicious aroma of sherry with a hint of apple and spice. But which should they go with?
The next stage was to plan the brew schedule around the barrels. Filling the barrels wouldn't be too difficult, but how would they later condition the bottles? Not being a fan of reseeding with yeast and sugar, they thought about various options but decided on krausening. Being overly festidious (another word comes to mind) they would have to krausen it with more Old Ale. As they don't brew the Old Ale often, they needed to plan things just right so that when the beer reached its peak in the barrels, another batch of Old Ale would be ready to krausen with.
The first brew went great. They prepped the barrels for filling by adding taps so they could check progress. On the day they filled them the aromas coming out of the barrels were absolutely amazing. Too bad they couldn't bottle them! they took some excellent advice from brewing friends about the maturation process, primarily that contrary to popular belief, too much age will over-oak the beer, making it unpleasant, and that 30 – 60 days would be more than sufficient. They started checking the progress from the second week, which was good but needed more time. It started to really kick in a week later, and by week 4 they noticed considerable change. The beer had reached its peak – the point at which much further ageing would take it too far. Another quandry appeared. The differences in the barrels had created quite different beers. Each mimicked the characteristics of its barrel. On their own they were equally good, but different. Being huge fans of blending, they tried them together and that's where the magic really happened. The blend of flavours was perfect.
They then organised another brew of Old Ale to produce the wort required to krausen the bottles. With many calculations, deliberations, and superstitious ceremonies the bottling day kicked off with blending the two beers and mixing it with the krausening wort. They then stayed up very late filling the bottles and laying them down to condition. A few long weeks later they wanted to check progress and opened a bottle to share in front of a fire one very cold evening. The result was stunning – a drink of huge depth and complexity. A lot of love went in to creating this beer, and they hope you love it too. For full enjoyment drink it at room temperature in a brandy snifter. The aromas and flavours really come in to their own then.
Branding was another key component. This was a very special beer, created in a very special way. They wanted a label that would sit happily alongside our award-winning image, yet be striking enough to stand out as being extra-special. Enter Ben with another brilliant idea to invert the colour scheme and catch the eye with glittering metal. The result is as immediately striking and impactful to the observer as the beer is to the drinker.
By now you've probably finished half of the bottle. Now enjoy the other half, contemplating all that is possible when you fuse passion and innovation.

2010 Vintage –
Strictly Limited Release of 700 Bottles
They were so pleased with the 2009 Vintage that they had the insanity to do it all again! As before, barrels were difficult to come by, but Julian took good care of us in the end. The two barrels used for the 2010 Vintage started life as red wine barrels. They were then en-route to a Calvados maker when they were intercepted (the story gets a bit fuzzy, and they knew better than to ask questions they didn't want to know that answer to). The barrels were even branded with a Calvados marking but never actually saw any. Instead, they were used for several generations of Somerset Cider Brandy. They were emptied literally hours before they filled them. As they prepped the barrels for filling, the aromas of apple, spice, fire, and oak were very intense. They matured this vintage slightly longer than 2009, then blended, krausened, and bottled it much as before.
And so we get the pleasure if securing the latest vintage, so don't miss out and enjoy!