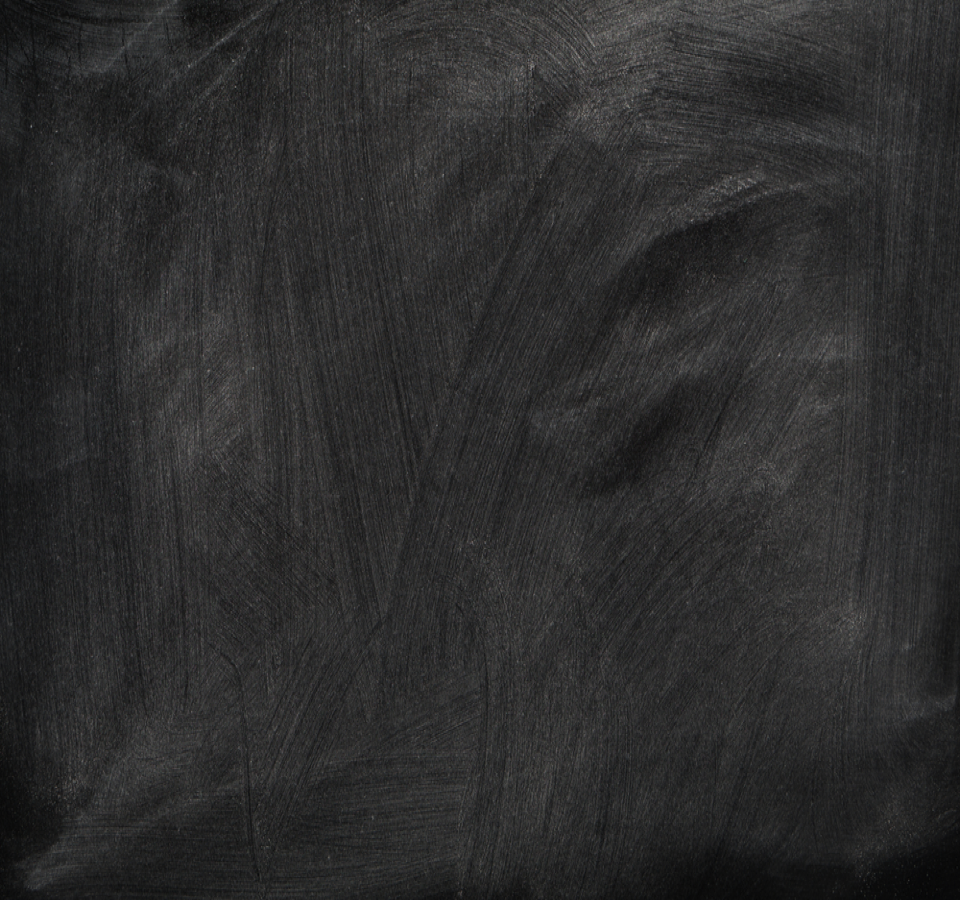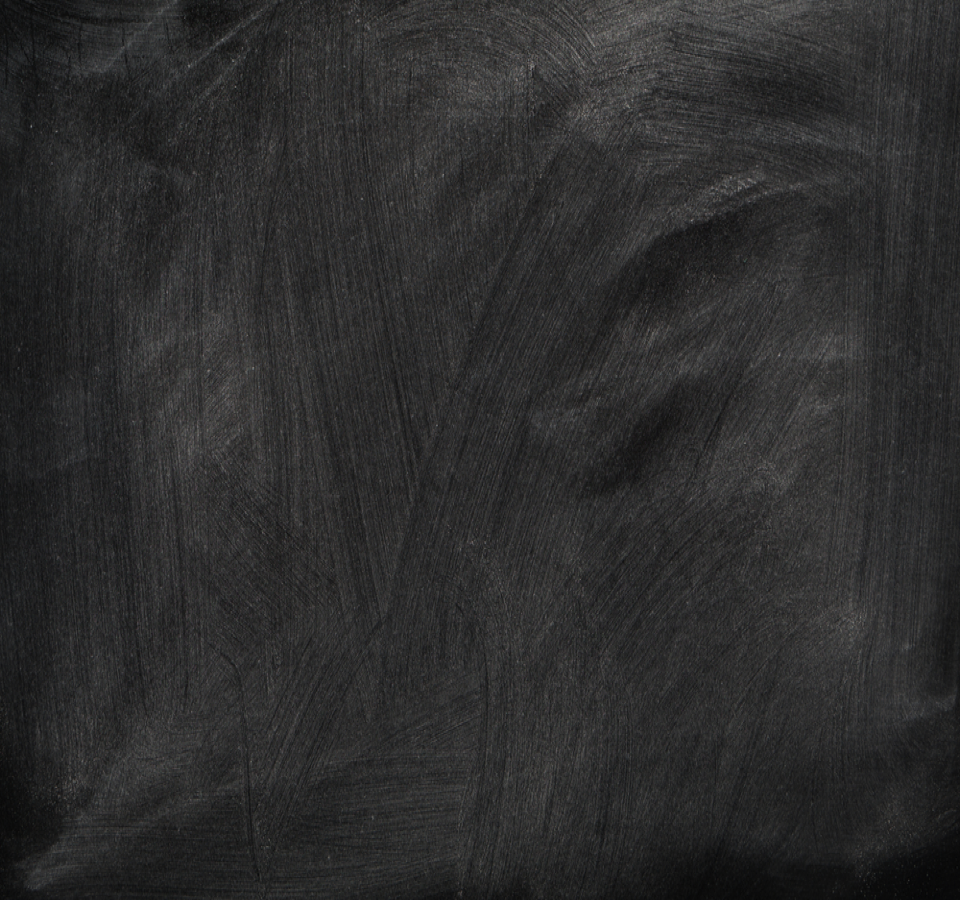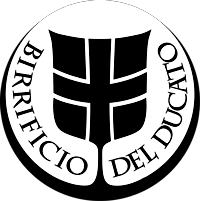 Hops hand selected to make this special aromatic beer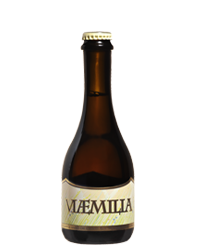 Glass:
330ml

Disposable Kegs:
30ltr Keykegs (pre-order only)
Popular restaurant line and good all round food beer

Hop season in Germany means that Giovanni is on call, ready for the phone call to say that the hops are at their best and ready to be harvested. He then "hops" on the plane and gets personally involved in the harvest hand selecting only the best most aromatic hops for this beer. The result is a beer of golden yellow colour and characterised by floral aromas and herbs (from the use of the hop flower of the Tettnang variety Tettnanger), reminiscent of acacia honey and a pronounced bitterness. Balanced and elegant, simple and satisfying.

The VIÆMILIA was the first beer that they created, considered by many to be there flagship. Although this sounds like a simple "light beer", its brewing is the longest and most delicate: A six week process of fermentation and then refinement with the final step the addition of those precious hand selected hops.

This beer is dedicated to the land,around the brewery near Parma, oppressed by dense fog in winter and scorched by the pitiless sun in the summer afternoons, the verses of a poet from Bologna helped them to describe the image of a languid day of June. "Through fields of grain which the wind bends between, low above the plain."

easy to get obsessed about this great pale ale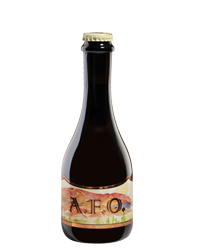 Glass:
330ml

Disposable Kegs:
30ltr Keykegs (pre-order only)


This is a beer that Giovanni always longed to make, for all those like him that are obsessed with ales this is your beer!

His interpretation of a pale ale is deep copper in colour, generously hopped (it contains more than ten different types of hops including the American Chinook, Cascade and Simcoe delivering its citrusy and exotic aromas) with a lightly toasted caramel flavour that perfectly balances its bitter finish.
A.F.O. is his second creation. The story behind this beer dates back to January 2006 when, for the first time, he came across the new and irresistible character of American hops. Despite the initial excitement, he soon realised that his dream pale ale aimed to express something different and he searched the world of hops to create a more complex hops bouquet sourced from England, Germany and varieties from New Zealand.

wake up to this amazing saison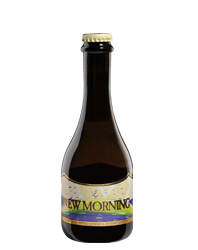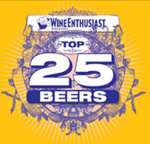 Glass:
330ml

Disposable Kegs:
30ltr Keykegs (pre-order only)


This beer draws inspirations from the Belgian Saisons but of course with the Italian twist! It is surprisingly spicy due to the use of wild flowers, chamomile, coriander, green peppercorn and ginger. Deep gold with orange highlights, it has exceptionally floral and spicy aromas. It finishes with a quenching dryness and an earthy bitterness.

This beer is particularly dear to Giovanni as he dreamed of this beer whilst training at Birrificio Italiano (an Italian brewpub) during the spring of 2006. It was spring and he was about to embark on the dream of opening his own brewery and he was excited by his new "awakening". He decided on a saison style given his connection to the land because it is a beer strongly connected to the land. (Saisons are traditionally brewed by the farmers of the Hainaut region in Belgium.)
Although choosing the beer was simple, selecting the herbs and spices was surprisingly difficult. He wanted both to recall the scent of a blooming field and create a fresh, intriguing and easy to drink beer. In order to achieve the right balance of herbs and spices he drank herbal infusions every day during that winter.
He called it "New Morning" after Bob Dylan's song about the awe for life and nature's marvels.

Sally Brown Baracco - 5.2%
Sally brown with a caffeine hit!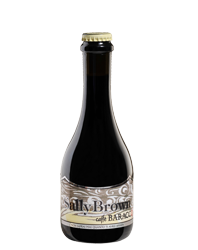 Oatmeal Coffee Stout/English Porter
Glass:
330ml

Disposable Kegs:
30ltr Keykegs (pre-order only)
Taking pre-orders shortly

This beer is a variation of SALLY BROWN and a result of the collaboration with Torrefazione Baracco in Parma. The nose is notably marked by coffee aromas from the high elevations of the Equatorial regions. Fragrant malt roasts harmoniously mingle with coffee exotic aromas. The mouth has a velvety body with hints of caramel, cappuccino and smoked flavour.


Winterlude - Tripel- 8.8%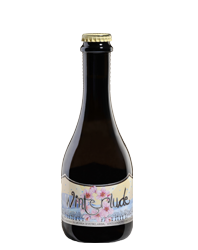 Glass:
330ml

Disposable Kegs:
30ltr Keykegs (pre-order only)
Taking pre-orders shortly


Winterlude is also named after a Bob Dylan song, a perfect fit since it is a winter warmer. The idea of winter as an interlude representing both the pause before awakening and the oblivion before new life. This beer is inspired by some varieties of the Belgian Tripels. The hops come from the Poperinge region where Giovanni has a close relationship with a hop farmer and has him set a preferred variety aside from his harvest.

It is intense gold, almost orange in colour, with aromas of fruit in syrup (pineapple, peach and apricot), candy sugar, bread crust and a note of chives from the Belgian hops of Poperinge. Warm and sweet on the palate with a firm fizzy finish. Strong and structured, sweet and inviting. A tribute to a friend who went missing, who we may meet again one day, just like the sun that is hiding behind the hill.


an ode to the belgian ale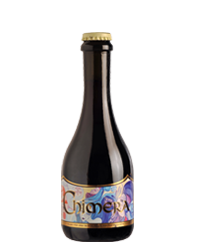 Glass:
330ml

Disposable Kegs:
30ltr Keykegs (pre-order only)
Taking pre-orders shortly


Chimera is most easily compared to a Belgian Dark Strong Ale. Giovanni travelled frequently to Belgium as a young man and he always enjoyed very much its beers. Today's Chimera resembles those beers that awakened a lifelong fascination with the creation of this wonderful drink.
It draws inspiration from the great Belgian Abbey beers. With the colour of a friar's robe, it has aromas of caramel and alcohol preserved fruit (pear, plum and morel) with light roasts. The mouth is warm and complex with an unexpected dry finish that makes drinking easier.
"To all those who still hold dreams and will never cease to search for the happiness they deserve".


Verdi Imperial Stout - 8.2%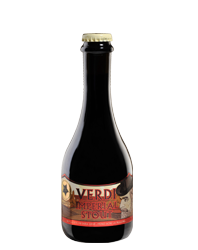 Glass:
330ml & 750ml,

Disposable Kegs:
30ltr Keykegs (pre-order only)
Taking pre-orders shortly

Dedicating one of their beers to Giuseppe Verdi was a must since the brewery is located in Roncole Verdi, the composer's birth place. After travelling to America Giovanni decided he wanted to create a beer that would be superior in elegance, balance and drinkability to all those stout varieties he had had overseas. Its uniqueness lays in the use of chilli pepper which combines very well with the beer's chocolate aroma. The hot finish also lightens its full bodied mouth by awakening the palate.

It is deep dark ebony in colour with a cappuccino head. The nose has aromas of chocolate, liquorice, coffee grounds and tobacco with alcohol nuances. Its full bodied, long lasting, smooth and dry mouth is followed by a surprisingly hot finish that breaks its initial fullness and makes you crave more!
It is suitable for ageing.

Verdi Imperial Stout is the first Italian craft beer to have ever been crowned with a gold medal in its category at an International beer contest. In 2008 it ranked first at The European Beer Star in the Imperial Stout category

Wedding Rauch "Smoking" - 5.2%
The wedding gift that kept giving!!!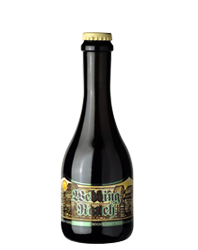 Glass:
330ml

Disposable Kegs:
30ltr Keykegs (pre-order only)
Taking pre-orders shortly

She was a girl with a weakness for Rauch beers and he was a brewer in love with his work. This beer is in honour of their wedding. Inspired by the traditional smoked beers from Bamberg, Giovanni created this beer to celebrate his wedding for his wife who has always loved Rauch beers.
Giovanni was in Tettnang 2 days before the wedding to select the newly harvested hops and brought back 10 freshly uprooted hop plants to decorate the wedding reception. Instead of the traditional rice tossing, the guests showered them with hop flowers. His wedding suit was garmented by a small hop blossom as well. Selling the leftover beer to some clients was such a success that we decided to keep brewing it. It is now part of our beer family!

It is amber with red highlights and a strong smoked flavour blending with hints of caramel and dried fruit.

La Luna Rossa - Aged - 8.0%
Barrel aged for 36 months to create a rich and amazing beer!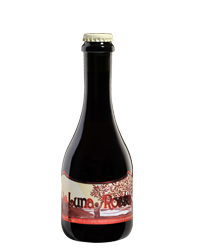 Glass:
330ml

Disposable Kegs:
30ltr Keykegs (pre-order only)
Taking pre-orders shortly

La Luna Rossa resembles a Flemish red based kriek beer and is extraordinarily complex and elegant. Lovers of this blend find it hard to forget.

A blend of different beers, some of which are barrel aged up to 2 years with morel and amarena cherries. Intense amber with ruby highlights, the nose is extraordinarily complex with fruity aromas of morel and amarena cherry perfectly blending with subtle ethereal notes, acetic and lactic flavors and hints of oxidized malts. It has a sapid, full mouthed lasting palate with a magnificently elevating sour finish. A beer for strong emotions, it is an homage to all lovers beyond time and space.

This beer has the longest maturation and its brewing resembles wine making in that regard. The start is a sour base which has undergone at least 2 years of mixed fermentation with acetic and lactic bacteria as well as Brettanomyces strains. Amarena and morel cherries are then added for additional flavor for at least 6 months. The beer is then blended with part L'Ultima Luna and part young beer and poured into numbered bottles indicating the year of the curvee. 12 more months of maturation in bottle are required before entering the market.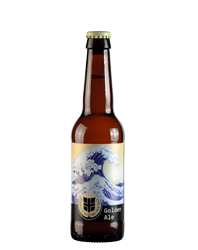 Glass:
330ml

Disposable Kegs:
30ltr Keykegs (pre-order only)
Taking pre-orders shortly

Leaving behind all those anonymous beers consumed by ordinary people Giovanni wanted to create something better!

Golden Ale has aromas recalling citron and lemon with hints of acacia honey. Its subtle malty palate is balanced by a decent bitterness. Light bodied with a dry and clean finish, it is simple but not plain, drinkable but also extremely flavourful and fresh. The Golden Ale reflects today's beer trends. This beer's highly refined bouquet resulting from the blend of the American Citra and Athanum hops with prestigious German hops charms the senses and make you want to drink more and more.

a real bitter for real bitter fans!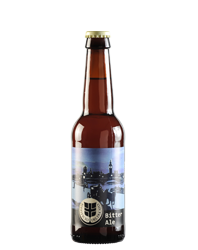 Glass:
330ml & 750ml,

Disposable Kegs:
30ltr Keykegs (pre-order only)
Taking pre-orders shortly

What happened to the true Bitters? The ones featuring hand -turned malt and a fragrant biscuity palate? Here it is finally, simple and light but with character.

It is brewed using English raw materials. Its aromas of biscuit, shortbread and hazelnut are delivered by the use of malts directly imported from a small malt factory in southern England still hand turning its barleycorns during germination. The beer's spicy nuances are conveyed by the use of traditional English hops whereas its delicate fruit aroma of peach and orange preserve is delivered by a traditional English yeast strain.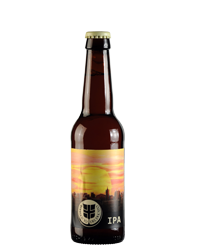 Glass:
330ml & 750ml,

Disposable Kegs:
30ltr Keykegs (pre-order only)
Taking pre-orders shortly


Hop is this beer's undoubted star.
It has aromas of mango, tropical fruit, grapefruit and bitter orange with balsamic notes and subtle malty nuances. Light amber almost orange with a very persistent white head, rich in refined West Coast hop resins, it is liquid poetry, wisdom and satisfaction lasting till the last drop.

Machette "Double IPA" - 7.8%
Heavily hopped double IPA for those that like their IPA's strong and bitter!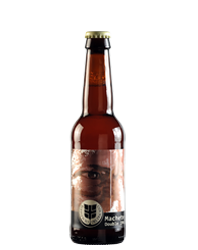 Glass:
330ml

Disposable Kegs:
30ltr Keykegs (pre-order only)
Taking pre-orders shortly

Heavily hopped, it has aromas of grapefruit, white grape and tropical fruit. Warm and fairly bodied, bitter but balanced, complex and persistent, its palate shows its character. It finishes with balsamic and resinous notes.

After watching the trailer of the movie "Machete" 4 years before its showing Giovanni was sold on creating a beer to honour him. Not any beer, only one could bear the weight of such a name: a Double IPA.

These are far from easy beers to brew. Limiting the caramel amount, achieving a good dryness, making sure that the higher alcohols are not overpowering are some of the key elements to avoid an undrinkable "sludge". Above all, hop has to emerge over everything else, powerful and imperious.
This is an extreme beer, either loved or hated. It has no middle ways, middle ways are not for Machete. Machete doesn't come to compromises. "Machete don't text".

dive in to this great stout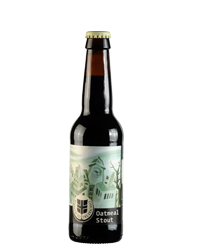 Glass:
330ml & 750ml,

Disposable Kegs:
30ltr Keykegs (pre-order only)
Taking pre-orders shortly



Clean, direct and without further embellishment: this is the stout Giovanni has always dreamed of. It is as dark as ebony wood with rust highlights and a latte coloured head. Its barley coffee roasts dive on a soft bed of cream. Not much else to say, just like her other "sisters" it won't make an impression at the first sip, it would rather grow on you for its sincerity and deliciousness. She is the perfect companion for raw salmon and shellfish. It is great by itself and also drunk alone.

Krampas - Christmas Ale - 9%
for the little devil in us all!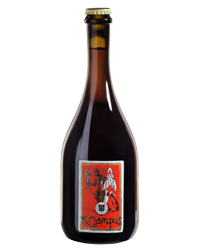 Glass:
750ml

Disposable Kegs: n/a


Christmas cake, dark chocolates and ginger biscuits

A beer dedicated to christmas. A rich amber with a creamy froth this beer is brimming with christmas fruits and spices. The beer and the name is dedicated to the legend that on the night of the 5th december "the Krampus" walk around the streets covered with goats skins and horns, asking their black chains to terrorise the locals. This precedes the arrival of St Nicholas ( santa claus) who then brings peace to the community