WE ARE PASSION!

WE ARE INDEPENDENT!

PASSION FOR THE PRODUCT AND PASSIONATE ABOUT DELIVERING A SUPERIOR SERVICE FOR OUR BREWERS, WINE MAKES AND DISTILLER PARTNERS AND IN TERM OUR CUSTOMERS!
For us its all about the craft, and selecting the best products and delivering these to our venue partners. Our aim is to bring you the highest quality, true craft product from around the world fresh.

Working with our customers as partners to drive the revolution and spread the passion!

A commitment to quality and respect for the product and the end consumer!

Experienceit started its life as Birra Italian by 2 Self confessed foodies and adventurers from Manly, who'd moved to Italy (with their kids and dog in tow) for work and discovered a new world of of experiences that they wanted to share back home! With a background in retail category management and a love of slow food and everything it stood for and delivered. Combine this with a passion for great wine and beer and the pleasure of appreciating a product created by the artists that are the wine makers and brewers, and presto Experienceit and Birra Italiana is born.

Through our ongoing adventures and first hand contact, we are coming into contact on a weekly basis with new producers from around the world, and its our aim to share our passion and experience back home, by continually offering a new and exciting range of products that are created with the passion that we love and respect. Join us on our adventure as we continue the craft beer revolution!

Supporting the global craft beer community......
Note: To contact head office please call +61 2 9907 4113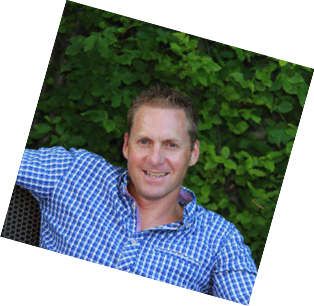 Johnny
Owner / Founder / Managing Director. Resident Hop Head, Chief beer fridge stacker, beer boss and sales stuff


His love and passion for craft beers and all things tasty, has lead to the expansion of the business, in a desire to deliver a truly unique craft experience to the Australian market.
Using 20 years retailer category management experience, combined with a love of the golden ale, he's aim is to be a little different (not hard for Johnny), and offer our customers the highest level of service and support, combined with a desire to partner with our customers and have some fun along the way.
When he's not in front of the computer or on a plane, he can be found touring the festivals and always with a glass in hand looking for the next great beer.


Contact: johnny@experienceitbeverages.com.au
Phone: +61 420 97 BEER (2337)
Twitter: birraitaliana1 and Nomadsbrewing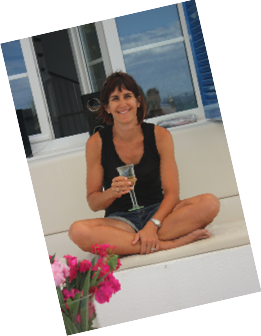 Kerrie
Owner / Founder / Managing Director - Leader of the revolution "The Capo", Official "B.B."

It took a while but we finally converted her to the dark side of beer (good craft beer that is). Kerrie drove the setup of the Experienceit wine and tourism business and after a little pushing from Johnny she now takes great pleasure in sharing the craft experience.
Now becoming a regular in the breweries and at festivals she's learnt that good craft has just as much to offer as a good wine.
Her passion and love for slow food drives her to deliver the best experience and products to our customers.


Contact: kerrie@experienceitbeverages.com.au
Phone: +61 2 0405 47 HOPS (4677)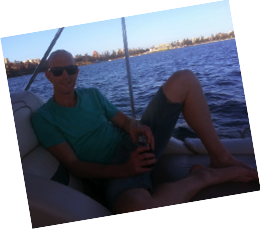 Ian (Iany) Gray
Operations Manager
"The Beer Ranger"


The man that holds it all together. Based in our Sydney office the business wouldn't function without him. With a thick Irish accent and massive smile, Iany delivers on our promise to provide the best possible customer support.


Contact: iany@experienceitbeverages.com.au
Phone: 02 9907 4113
Ed Rolfe
NSW Brand Ambassador - Nomad - Deep Creek - Stone - Yeastie Boys
"The Hopppy Hammer"

Northern Beaches / City & Southern Suburbs / Wollongong / Canberra

"I used to be an optimist: I'm sure I will be again! 29yrs IT Sales wisdom, a Grammar school education, and a very quirky personality result in something rather unique!"
Living the first five years of my life in a pub that Mother ran in the very heart of London's EastEnd, I was always going to have at least two loves in my life – beer and West ham United.
After just one part-time shift, I found myself managing a mentally-busy bar at the ripe old age of 18yrs. Spending most of my working life representing some of the world's leading technology brands managing relationships and selling solutions to government departments and businesses large-and-small, I have had enough of 'IT' and have returned to the world of beer – representing some of the world's, and Australia's, best Brands - something, people in the local pub and micro-brewery trades have been telling me I should have done years ago.
An Englishman born to be an Aussie, I have lived the past 24yrs on Sydney's Northern Beaches with my other loves - my two sons and my beautiful partner, Angela (my Northern Beaches Essex girl! xxx):
"West Ham 'Til I Die", I have also adopted a local team from another code (NRL). One that just happens to wear a different shade of Claret, but shares the same unpredictable (aberrational?!) form, week-to-week.
I live & love the Aussie way – particularly Footy, BBQs and craft beer. The hoppier, the better!!....
Say Hi, and get to know me. You'll really like me: People do! J
Contact: Ed@experienceitbeverages.com.au
Phone: 0452 45 HOPS (4677)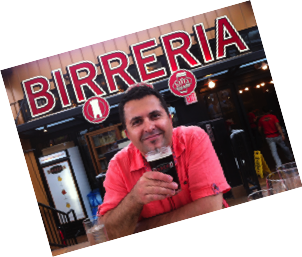 Andy Christofi
Victorian State Manager
"I'm Converted"
He's been peddling booze for over 20 years now, mostly as a sommelier in some of Melbourne's best restaurants and bars. Originally a wine buyer (and geek), Andy found himself falling for the charms of tasty craft beer over a decade ago. In 2007 he spearheaded the biggest and most ambitious beer list Melbourne had ever seen, writing the original Beer Bible at Beer DeLuxe Fed Square. He's watched the Melbourne beer scene transform and go from strength to strength, all the while being immersed in it. His passion for good beer is pretty much more of an obsession.
Now Andy has jumped over to the other side the fence; heading up our sales team in Victoria.

Contact: andy@experienceitbeverages.com.au
twitter: Soulsomm
Phone: 0430 273 973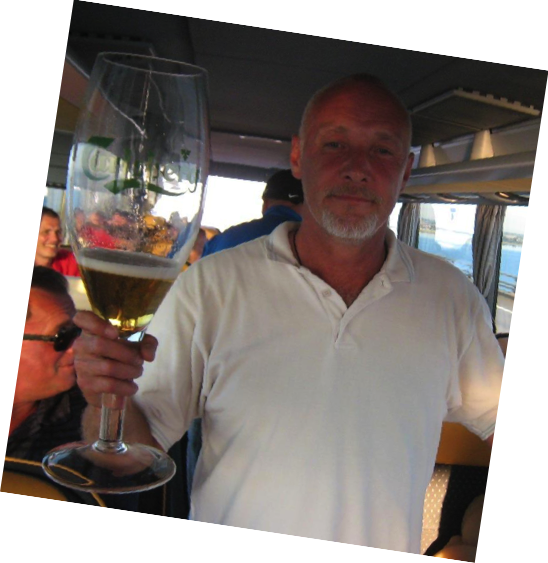 Glenn Phillips
Victorian Sales & Brand Ambassador / Stone & Nomad
"The Big G"
As you can see from my picture the 2 things I love the most are Beer and Golf, not necessarily in that order. In this picture, I had just won a golf competition that day in Sweden. The beer was ok, Carlsberg as they were the sponsors of the tournament.
I got the nick name Big G in Edinburgh as the Scots call a taller guy Big Man I got Big G, not that I'm very tall. Most people just ended up calling me G.
Originally from Auckland, N.Z
I have lived in Melbourne, Sydney, The Gold Coast, Brisbane, Byron Bay, Hamilton Island, The Seychelles', London, Scotland and the last 16yrs in Copenhagen Denmark.
While in Denmark I was selling Craft Beer to the Danes from around the world for over 14yrs.
Happy to be back home in Melbourne, hope to see you soon for a few Beers and maybe a round of Golf if you're interested just let me know.
Contact: glenn@experienceitbeverages.com.au
Phone: 0426 89 BEER (2337)
Enter the name for this tabbed section:
Selection and ratings process
Only the best beers get added to our range!
Our Selection Process & Rating System
Taste plays a major part in our selection, but it does not stop there. Once we have found the beers we like we then cross reference our findings with the Slow Food Beer rating guide for Italian beers, we then refer to "Rate Beer" and "Beer Advocate" and then if it passes, the tasting panel takes over and gives us the final…
"Its bloody good mate!"
--------------------------------------------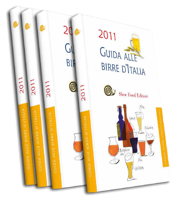 "SLOW FOOD" are the premier reviewers of Italian craft beer and each year release a comprehensive list of craft brewers and ratings based on quality, taste and uniqueness. Using a star rating system with 5 being the highest.
--------------------------------------------
To give you that little bit more help the below symbols have also been used and represent our own tasting favourites.
Enter the name for this tabbed section:
How it all works?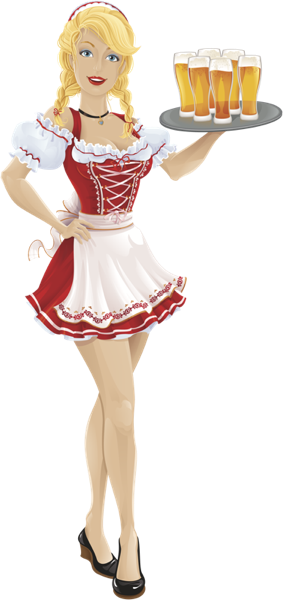 Everything you need to know about how we do business and how you can become a customer:

We work with our brewers under exclusive import rights for the Australian market.

We work closely with each brewer to forecast stock requirements and establish a rolling calendar of events in each state.

Our 2 principles Johnny & Kerrie are based most of the year in the heart of Italian beer and wine country (Barolo Italy), working with our current brewers and sourcing new and exciting offerings. Combined with monthly trips around Europe and the US to visit our current brewers and source new and exciting products.

We attend most of the local craft beer festivals in the region throughout the year and make regular visits to our brewer partners.

Because of the size of the brewers and the need to give them as much time to plan as possible, we work up to 10 weeks in advance of arrival into the country to take pre-orders for bottles and kegs from our current customers. The main priority being pre-ordered kegs as these need to be fermented in the keg before shipment and will not be released until ready.

We will work with our core customers to forecast coming requirements and secure stock on the next shipment.

Kegs are 95% pre-sold before shipment and we only order a small excess to fill any new demand or current customer needs.

If for some reason a brewer can't supply a pre-ordered line, we will work to find replacements and work with our customers to ensure their needs are covered.

We like to be a bit different and because we want to build a sustainable Italian & International craft beer business, as such we will pass on any discounts and exchange rate benefits we gain. As a good example on our first container order that was 85% pre-sold, we dropped the price of a large number of our best sellers before invoicing. The hope is you'll remember us and come back and order more.

All shipments are refrigerated in transport, which does add to the cost but it also ensures the best beers with longest shelf life lands in Australia.

In Australia we store our beer product in a climate controlled facility using BAM logistics in Melbourne.

To ensure maximum shelf life we also don't order massive volumes of stock, rather we order stock every 6 weeks and always have a fresh batch landing to ensure only the best beer on shelf.

All accounts are direct with Experience it and we handle all invoicing direct. Our distribution partners just handle logistics. So no additional wholesaler costs.

Each month we will send out pre-sale forms for the coming months and call to discuss the coming releases.

We try and cover as much of the deliver charges as possible so you can hit a good retail price.

For our Perth customers we can work on consolidated shipments and will help arrange this across our customer base in the market.

Invoices are sent out when product is dispatched and payment terms are available on request.

For large events with bulk stock we may ask for an upfront deposit to secure the stock.

Minimum order qtys are 4-5 cases (based on the state), with all pricing volume based so the more you order across the range, the cheaper your price gets.

We support our brand through advertising via Crafty Pint, Brew News and Beer and Brewer, and will work with our customers to support events and consumer promotions.

Our range is supported by point of sales supplied at no charge by our brewers and also made by ourselves.
Enter the name for this tabbed section:
What Makes our beers special?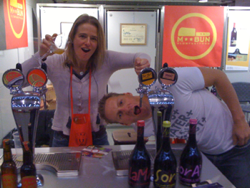 Our tasting team hard at work at the recent Torino Italian beer festival. Simone our resident Brewer and taste consultant and Johnny…Its a hard job!
What makes our beers special?
100% craft beers direct from the brewer

We don't use email or the web to select and source our beers. We do it the old fashioned way with tastings and face to face session. We visit every brewer and meet them face to face and get to know them personally, tasting the beers with them and understanding their business. From Milan to Rome, to Cheddar to London to Texas and Boston and Copenhagen, we've seen them all.

All beers are true craft and created to the principles of Slow Food.

Most never before available via official channels in Australia before.

Selection of Italy's and the worlds highest rated craft brewers. most in the 90's on Rate Beer.

Brewed at the source and not under licence by a major brewer.

Bottle fermented in the true craft brew fashion, delivering a natural carbonation.

Mixture of top and bottom fermenting beers. Including lagers with big hoppy flavours.

Sourced through local knowledge and taste.

We work with our brewers locally to develop a relationship and and brand strategy for the local market.

Our aim is to treat products with the respect they deserve and establish an ongoing brand.

Premium Beers at a reasonable price.

Transported in refrigerated containers so it arrives in the best possible condition. This does cost more and adds a lot to the price, but it means you get the best beer!

A commitment to be different and work with our customers to build a new and profitable segment in the craft category.
Extensive range of International craft beer in kegs.

PASSION, STYLE, QUALITY, TASTE…BLOODY GOOD…SUMS IT UP!