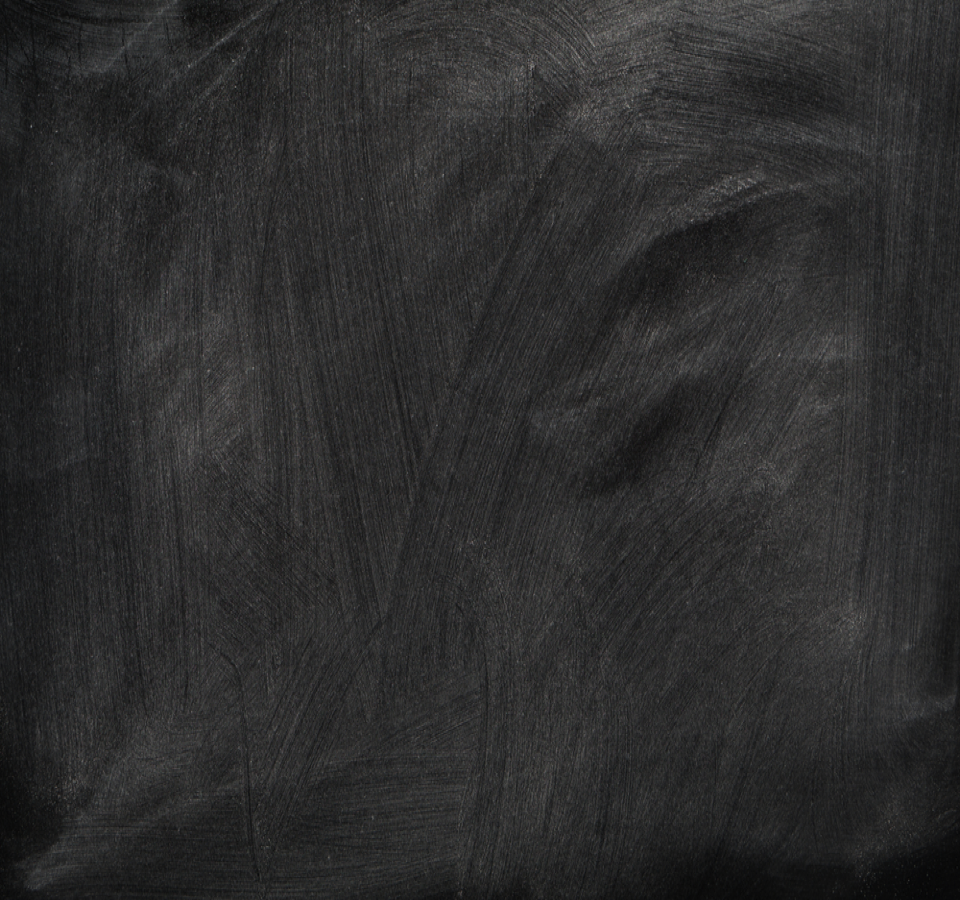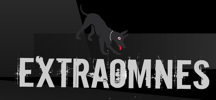 A twisted mix of 4 hops and delicious malts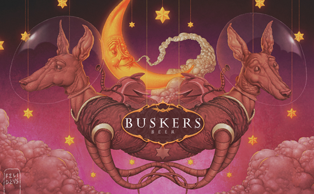 Limited special release - May

Thai green curry, Pad Thai

86/100 (latest ratings very high)
"Devotchka:" Russian word meaning girl or woman made famous by the popular 1971 classic A Clockwork Orange. Buskers are 2 gypsy brewers from Rome who teamed up with Schigi from Extraomnes to form this gang of brewers. Not quite so violent as the gang in the movie but a group of "hoods" all the same! They got together to make a tripel with a twist using a mixture of centennial, citra, amarillo and sorachi hop combination combined with the carapils malts to give a great tripel with a body and a nice hoppy finish.
A lighter alternative to their big % Saison, delicate and classic Saison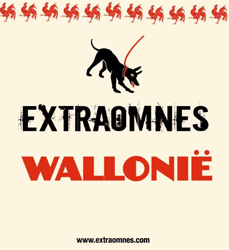 Fish and chips, Blue cheeses

Early rating show it tracking in high 90's
Their new Saison designed to be a lighter and more session style Saison compared to their original version (shown below). Deep golden opalescent white with compact foam. Scents dominated by the yeast with the spiciness of black pepper and a light clove, followed by a fresh floral and balsamic notes typical of Saaz.
In the mouth is dry, with a slight softness alcoholic and a bitter end with a gentle but stinging.
Australian hops and flowers from East Asia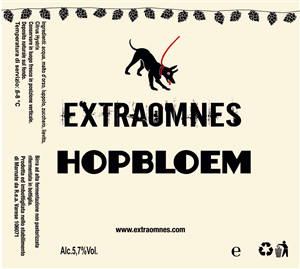 Early rating show it tracking in high 90's
Foam is fine and abundant on a golden opalescent. The nose stand out awards of lemongrass, lemon balm and a fruity'' veers from citrus to tropical. The taste is dry with a bitter end extended over which intersects a vegetable essence of lime.
Migdal Bavel 'Tower of Babel" - 6.66%
Stand back and hang on…if you like a bit of spice then this is your beer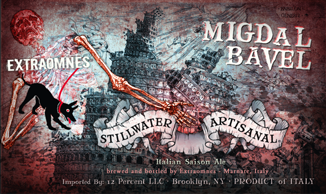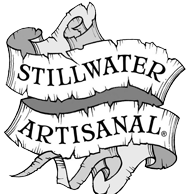 "Spicy" Saison - "with a kick!"

Limited release. Good with meats or fish and chips. Would also work well with a nice soft cheese that would interact well with the pepper.

Lets start with 2 great brewers, one being an American brewing legend, select a style "Farmhouse Ale/Saison, and for a kick throw in some Myrrh and Szechuan peppercorns, then brew it to an alcohol % of 6.66 and you get the picture!. Its defiantly a unique beer. A great saison with this fantastic final kick as it goes down the throat. Try it if you dare!
Complex but not complicated. One of the best Saison's we have tasted

Glass:
330ml

Disposable Kegs:
30ltr Keykegs

A beer that adhere to the "Saison" style, the traditional lunchtime beer of Belgian farmers. A lovely golden colour liquid with a fine but meringue like foam. The yeast gives spicy aromas of black pepper and white flowers such as Tiglio. Initially soft and fresh in the mouth leading to persistent flavours of balsamic hops.
A beer to quench a thirst! The ultimate session craft beer.

Glass:
330ml

Disposable Kegs:
30ltr Keykegs
Rich cheeses, Salmon, Sushi

Made with only light malts, citrusy hops and yeast with balsamic aromas. Bitter but well balanced. This beer has a creamy and well formed foam which transmit the lovely grapefruit aromas of the beer. Light and amity upfront in the palate but leaves a lovely persistent bitter hoppy taste. A perfect beer for an aperitivo!
Winner of best beer in show, at recent Milano Italian artiginale beer festival.

Glass:
330ml

Disposable Kegs:
30ltr Keykegs
Seafood dishes, white meat and rare steaks.

A compact head with a persistent and dry finish. An intense nose of mature white peaches, grapes and lychee but also a delicate spice hint. The lack of residual sugars gives a dry, refreshing and persistent flavour.
Another one of those WOW beers that delivers at every level from a floral nose to classic bitter aftertaste. We loved this a little too much!

Glass:
330ml

Disposable Kegs:
30ltr Keykegs

Lightly golden with a creamy foam this beer has delicious floral but spicy aromas persistent with the delicious warm sensational of alcohol but well balanced with a lovely dry mouth that cleanses the palate and leaves you ready for more!….Wow we loved this beer!
Birra da "conversazione"! Not to be rushed!

Glass:
330ml

Disposable Kegs:
30ltr Keykegs


A beer that goes well by itself or matched with food. A lovely cappuccino coloured foam the beer has aromas of toasted cocoa powder and bitter chocolate.Pleasantly sweet initially on the palate evolving to a persistent almost "distilled flavour" in the mouth.
"Donker" Imprial Coffee Stout - 8.5%
An excellent beer and one of our favourites!. Espresso in a bottle topped off with creamy chocolate and toasted malts.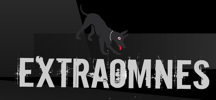 Glass:
330ml

Disposable Kegs:
30ltr Keykegs


Chocolate mud cake, Vanilla Ice cream - or an after dinner drink

The first smell delivers an amazing coffee aroma (the perfect Italian Espresso), the first sip fills the mouth with creamy dark chocolate and toasted notes, building to an intense bitter aftertaste that just tempts you to keep coming back for more. This beer hits all the right notes and does not leave you disappointed!
A Saison with a punch, dangerously good, try stopping at 1

Saison/ Belgium String Ale

Comments & food matching:

A big beer with big taste packs a punch of both flavour and alcohol %, cross between a Saison and Belgium Strong Ale. Heavy spicy and citrus aromas on the nose, with a lovely coriander / spicy mouthful and good combination of of bitterness and sweetness. The big alcohol content is not as evident as you'd thing with a well balanced and long lasting taste, overall a very delicious beer that you'll find hard to stop at one.
Kerst Normal and Riserva 2012 - 10.12%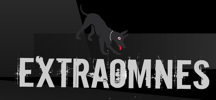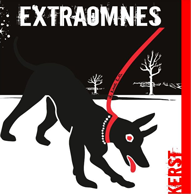 Belgium Strong Ale (matured)


2 versions available, both good with sweets (Vanilla Gelatto) or as an after dinner drink.

Another of Extraomnes big and special release Belgium Strong Ales in 2 versions. The standard version and the wood aged. starting with a creamy head and big fruit spiced nose with caramelised apples, Well balanced and spicy mouth full with , the olfactory spectrum is dominated by a violent fruity remember caramelised apples. Well balanced mouthful with the typical spicy upfront taste of other Extraomnes Belgium Ales, finished with a soft acidic freshness. A perfect after dinner drink sitting around a fire. The wood aged version take this great tasting beer and ages it for 9 months in old 225 litre Barbera barrels from the Piemonte region in Italy. Giving at nice vanilla notes.